I was in a maze book swap on the
Yahoo mini-books group
, and there was a discussion about whether or not to "decorate" it (started by me). The conclusion was that we would let our partners "fill" their books. So I sent mine off bare, just the basic maze book construction but with tags added.
Then yesterday I got the most GORGEOUS book from my partner. It is not just the basic maze book. It is bursting with decorated and distressed tags, journaling spots, and embellishments. Mostly with a theme of butterflies, but also birds, flowers, and dragonflies. I just talked to Andrew for Mother's Day and he's going to send me some photos of Sam for this one. It's just too cute to leave alone, and even though it says "My story" on the front, my story is his story at the moment. Sort of. To a point.
I'm also in a new swap, a "quick turn-around" or QTA ATC addicts' swap. You only have a week between getting your partner and sending the card. That's not SUCH a quick turn-around, but more so than most. Here's the image: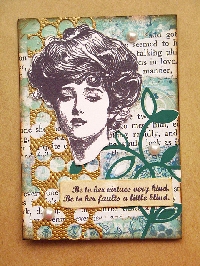 I swap with Swap-bot!
Not particularly relelvant to anything, but there have to be SOME pictures on this blog. That's my next project -- get a camera and re-learn how to upload pictures and get them to this computer, not just the PC. (Blogging would be just too hard on a desktop PC.)
Oh, I titled this "Swap confusion". That's because I asked whether or not we were supposed to "decorate" the maze books, and the response was that the group had decided not to "fill" them. Now what does that mean? Nobody would put their own pictures and words in someone else's book, so it could only mean decorating it, right? So I sent mine off plain, with just a few tags to show where they should go. (Apparently I decorated them somehow, or maybe sent some pre-decorated ones, because my partner thanked me for them.)
Anyway, I felt horribly embarrassed when I got this gorgeous mini-scrapbook, having sent only the most basic maze book structure to Cat. I emailed and told her that I would send her another one, and she wrote back saying that she had been under the same impression as I was -- but that now she would do a lot more to her partner's book as well. She told me to keep the maze book -- so maybe I will, and send it to Lenna if I start to run short as the deadline comes up.
I'm in a lot of pain today, having stayed up late to finish my pin-up girls ATC swap. It was really hard to find images that weren't obscene, or too small, or watermarked. But I did find enough, and managed to add some text and embellishments to rise to today's standard. I believe I've already complained that an ATC used to be good enough with an image and some text and maybe one embellishment. Nowadays tney have to have tons of mixed-media art, stamping, papers, and so on. See example above! Anyway, it's lucky Andrew didn't come over (as they were planning originally) because I'm in no shape to do anything but lie here.