Julia was right -- it's easy to get addicted to swaps here. But best of all, I get to upload images straight from my bed. This one is "Ephemera + Insect" --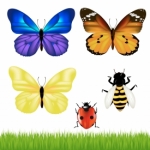 I swap with Swap-bot!
And those (ephemera + insect) aren't the only elements to be placed on the card, either. I'm going broke buying embellishments! I went through my list of swaps and have a LOT coming due in mid-June, so I'm working busily all along so as not to get caught with a deadline I can't meet. I didn't realize that
mini-books
typically has a participant send an item to EACH other participant, so I have several toilet paper roll pages and postcards to make. Plus, my Marie Antoinette chunky pages can each be the same, but have to go to
ten
people. Yikes! That's going to challenge my back for sure. But I will have a gorgeous chunky book in the end.